Your customers can find, research, buy, return, and recommend almost anything with a click. And they're demanding more from retailers, manufacturers and service providers like you. These customers expect convenience, accessibility and personalized offerings. But to gain their loyalty takes more, and Assurant can help you seize the opportunities. Our protection programs and support services help you deliver memorable experiences, strengthen customer relationships and generate sustainable profits.

SEE FURTHER
Uncover new revenue opportunities that your competitors don't see. The most successful brands in the world trust Assurant to do just that.

GET THERE FIRST
Get smarter insights that create exceptional customer experiences. We have a reputation for innovations that become market-first solutions.

ADAPT AS YOU GO
Identify unmet needs, gain greater insights and uncover hidden risks from pre-purchase to post-sale. Transform the customer experience.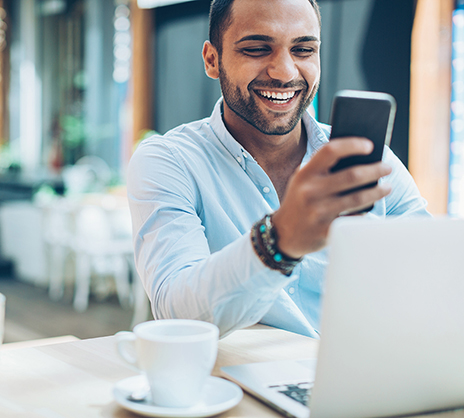 FEATURED INSIGHTS
The Rise of Consumer Expectations
Consumers are expecting more than ever below and our research shows us that it will only continue to increase. Take a look at our infographic on how consumer expectations are changing and discover how you can create a competitive advantage.
DISCOVER
PARTNERS
Turn your customers into lifelong fans.
You need full visibility into the customer experience to ensure the impression of your brand remains positive. When you partner with us, you gain a wide range of capabilities to protect and support the consumer goods, electronics and appliances that your customers rely on more and more every day.

Multi-Service
Operators
Protect your customer's electronics, devices and gadgets. Assurant's MSO partnerships and market-leading position in the mobile space ensure seamless support of connected-living opportunities.

Manufacturers
Customize repair, replacement and support solutions to fit the specific needs of your customers. Assurant supports some of the world's most recognizable original equipment manufacturers. Our extensive experience, market-leading service solutions and global reach mean we have the agility and breadth you need, and our results prove it.

Retailers
Focus your offerings and support where your customers are – online and off. Assurant taps into decades of experience as well as extensive consumer research to stay ahead of trending behavior and produce innovative protection and support solutions. Lift loyalty and drive sales, even as customer behavior and markets continue to evolve.
FLEXIBLE CAPABILITIES
What you need, when you need it.
Understand what makes your customers tick. Assurant's solutions work across the total customer lifecycle, because they're based on thousands of annual research programs and customer surveys. The combination of data and insight help you make informed, confident business decisions.
Assurant has access to the world's best product development consultants in the consumer goods industry – our clients and their customers. Insights from industry-leading partners and millions of consumers worldwide helps us tailor our products to the needs of your customers, your business and your industry. Our goal is to add value at every point in the customer journey and strengthen loyalty for your brand.
You can rely on us to deliver complete underwriting support so you can focus on what you do best. Some of our competitors don't handle their own underwriting, but Assurant does. This means we can be more flexible and adapt quickly to evolve and improve your program.
Assurant expertly navigates the complex regulatory and compliance landscape on a global scale in over 100 jurisdictions. We focus on compliance and ethics education that goes beyond merely informing people of the laws to integrating ethical business practices in our everyday actions.
Optimize your sales process in every customer acquisition channel. From marketing teams that design support collateral to sales optimization processes designed to improve your sales margins and attach rates, we're your trusted advisor.
Deliver a quality experience from pre-purchase to post-sale. Assurant handles millions of claims and hundreds of millions of customer interactions every year. As we listen to customers, we produce data-driven insight that uncovers hidden risks and identifies customer needs and expectations so you can improve loyalty and grow your business.
Our repair and logistics operations support every aspect of your program, resulting in reduced expenses and additional revenue for you. Assurant has over 20 years of repair and logistics experience, with wholly-owned state-of-the-art centers in the US as well as partnerships across the globe. In the last three years alone, we've invested over $100 million in the facilities, people and technology that support our repair & logistics efforts.
Lower your expenses and gain additional revenue with a comprehensive repair and logistics solution. We have decades of experience and millions invested in facilities, people and technology. State-of-the-art centers make Assurant the repair and logistics partner that can support every aspect of your program.
PRODUCTS & SERVICES
Flexible product protection solutions to grow your business.

Extended Warranty
Our broad product protection programs include extended service plans for almost every consumer product, so we can design a program to meet your specific needs.