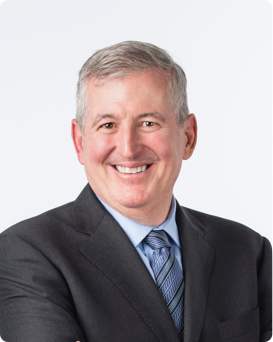 Alan B. Colberg
President and Chief Executive Officer
Assurant, Inc.
Alan Colberg is president and chief executive officer of Assurant, Inc., and a director of the company's board of directors. He was named president in Sept. 2014 and assumed the role of CEO and director on Jan. 1, 2015.
Assurant, Inc. (NYSE: AIZ) is a leading global provider of lifestyle and housing solutions that support, protect and connect major consumer purchases. Anticipating the evolving needs of consumers, Assurant partners with the world's leading brands to develop innovative products and services and to deliver an enhanced customer experience to more than 300 million consumers worldwide. A Fortune 300 company with a presence in 21 countries, Assurant offers mobile device solutions; extended service contracts; vehicle protection services; pre-funded funeral insurance; renters insurance and lender-placed homeowners insurance.
Under his leadership, Mr. Colberg has led a global transformation agenda for Assurant, which has included divestiture of the company's health and employee benefits businesses in the early part of his tenure – in favor of focusing on and growing its dominance as a leader in the connected consumer lifestyle businesses. His transformative strategy has delivered sustained profitable growth while realigning Assurant's business focus to build upon its core capabilities and further capitalize on global trends in the housing and lifestyle protection markets. In late 2017, Mr. Colberg led Assurant's $2.5 Billion acquisition of The Warranty Group, making Assurant the premier global lifestyle provider and solidifying its position as a global leader in vehicle protection – further strengthening and emerging as a definitive leader across its three key businesses of mobile, auto and renters.
Mr. Colberg sits on the Business Roundtable and has participated in many of this group's key initiatives, including his support for the Purpose of a Corporation. Additionally, he has been the company's lead advocate on Diversity, Equity & Inclusion, across the globe. In 2020, following the tragic death of George Floyd, he orchestrated the company's first-ever global "courageous conversation about race," enabling employees to share candid discussions about race in the workplace, and fueling the development of commitments to further training, talent recruitment and development and implementation of employee resource groups.
Before joining Assurant in March 2011, Mr. Colberg was a consultant for Bain & Company, Inc., for 22 years, serving as an advisor to Assurant during much of this time. While at Bain he founded and then led Bain's Atlanta office for more than a decade and served as Bain's global practice leader for Financial Services.
Mr. Colberg served on the board of directors for CarMax (NYSE: KMX) from 2015-2018, and as chair of the company's Nominating and Governance Committee Previously he served on the boards of the Woodruff Arts Center, the Metro Atlanta Chamber of Commerce and as chairman of the board of the Atlanta International School.
In 2019, Mr. Colberg was ranked first by buy-side analysts and third overall (tie) for Best CEO in the insurance sector in Institutional Investor's annual survey. In 2010, Consulting Magazine named him one of the world's top 25 consultants, recognizing him for demonstrated excellence in the financial services sector.
Mr. Colberg holds a Master of Business Administration from Harvard Business School and a Bachelor of Science in accounting and finance with highest honors from the Wharton School at the University of Pennsylvania.